Vendor fraud involves any malpractices that manipulate the accounts payable (AP) of a company to divert payments for personal gains. Such scams can be committed by one or more employees, one or more vendors, collusion between employee(s) and vendor(s), or third parties who have access to the AP. Given that such vendor frauds could be internal or external, it gives rise to great complexities that make crackdowns nearly impossible.
This post will offer an overview of some of the commonest types of vendor fraud and how you can shield your business from it.
Some Common Examples of Vendor Frauds
Since the definition of vendor fraud is very broad and all-encompassing, here is a snapshot of the various schemes run under it:
Billing Fraud
Billing fraud is the commonest of vendor fraud, where the employee uses false documentation to manipulate the company's billing system and generate payments in their favor.
Phantom Vendor
In this case, an employee who has adequate access and control of the AP registers a shell company and sets up regular payments against their account.
Duplicate Payments
Here, the employee may duplicate a genuine invoice and initiate double payments, one for the vendor and the other for themselves.
Check Manipulation
During such fraudulent activities, an employee may participate in forging or manipulating the information on vendor checks to reroute payments to their personal accounts.
Bribery or Extortion
As the name indicates, this form of fraud involves the employee demanding personal payments or remittance from a vendor in lieu of an advantage.
False or Over Billing
In false billing, the vendor charges you for goods and services that they have not delivered to your organization. As for overbilling, the vendors charge inflated bills that are not in proportion to the goods and services rendered.
Bid Rigging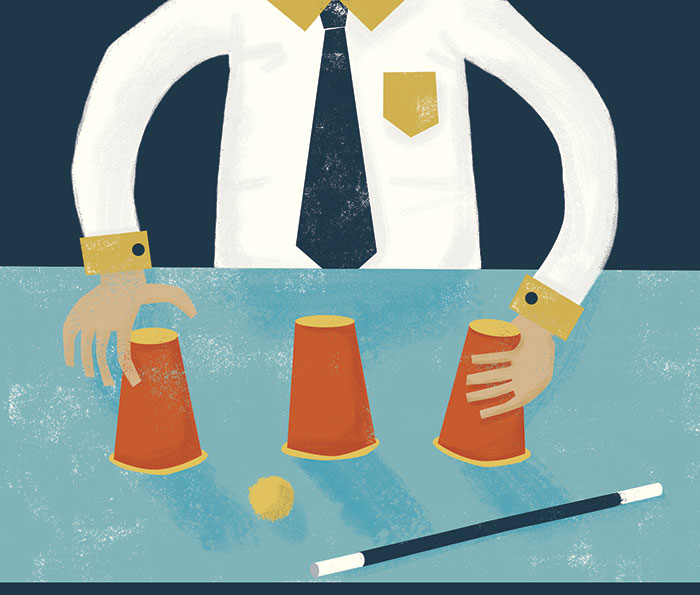 Bid rigging involves the collusion between employee-vendors or vendor-vendor to give rise to any of the following situations:
Insider information - an employee leaks sensitive information that allows a vendor to submit a winning bid.
Unfair reward - the contract is rewarded to the vendor even though they have not submitted the lowest bid.
Bid suppression - vendors collectively agree to refrain from bidding.
Bid rotation - vendors hatch a conspiracy where they take turns while submitting the lowest bid.
Complementary bid - vendors consult each other and submit bids with unacceptable terms.
Market Price Fixing
Market price fixing takes place when two or more vendors conspire to bid prices that are higher than the prevailing market rates. As a result, the company will have to pay above-market rates no matter which vendor they choose.
Cyber Fraud
It is a form of cybersecurity attack where a third party gains access to the AP by hacking into the system to make payments to their account. They may even manipulate vendor account details so that authorized payments may get diverted to their account.
How to Identify and Curb Vendor Frauds?
While it may seem like an overwhelming task, identifying and preventing vendor fraud is very much possible. The primary step in this direction would require locating the points of leakages and implementing a system of checks and balances. Plus, holding all stakeholders accountable can also contribute to all the measures.
Here is an elaborate guide on how you can identify and curb vendor frauds at various checkpoints:
At the Vendor-Level
Considering that vendors may be responsible for some forms of vendor fraud, the following measures may be taken to detect and reduce incidence:
Follow due diligence during the vendor enrollment process by scrutinizing information such as their mailing address, contact details, tax information, bank account, etc.
Maintain a centralized repository of all the vendor information and maintain a record of edit history to identify accounts that make any changes to the database.
Set preferences and additional payment approval systems for high-risk vendors.
Schedule periodic assessment of the vendor database by involving external auditing parties for an unbiased evaluation.
Ensure that vendor information, from address to bank accounts, does not match with employee details.
Evaluate vendor master files regularly to monitor billing volumes and flag any variations.
At the Employee-Level
Albeit it is termed as "vendor fraud", we have seen above that employees have some role to play in it. Here are some ways in which companies can maintain integrity internally:
Conduct background checks while hiring new employees, especially against sensitive posts.
Regulate access to financial information on a need-to-know basis and instate access authorization.
Ascribe dedicated roles and maintain disconnect by assigning different personnel for entering vendor data, receiving goods or services, preparing checks, and authorizing payments.
Wherever separation of duties is not possible, smaller businesses can rotate the duties of those involved in procurement.
Educate your employees on the pitfalls of vendor fraud and encourage them to adopt a hard stance against it.
Pan-Organization Level
At a higher level, businesses can implement active measures to test and prevent vendor fraud as a part of their culture. To do so, it may have to:
Implement invoice matching methods for checking vendor invoices against documents such as proof of work, purchase orders, goods receipt, contracts, and inspection slips.
Apply data mining techniques to detect patterns that may point towards vendor fraud.
Set up a robust internal controls framework that monitors all transactions in real-time and notifies of any deviations.
Make training and awareness an integral part of employee orientation to cultivate integrity.
Implement a two-tiered approval system that establishes a system of checks and balances and maintains accountability at all stages.
Create a safe environment where whistleblowers are protected from any negative impact of reporting irregularities.
Conclusion
Vendor fraud is a drain on company revenue and resources. For SMBs, such losses can snowball and paralyze operations to the extent of putting an end to the venture! Fortunately, a little proactive action at your end can mitigate risks and damages. As for areas where it is not possible to intervene manually, modern-day enterprise tools and platforms are playing a pivotal role in preventing such mishaps and nipping them right in the bud. Equipped with such a protective mechanism and preventive vigilance, vendor fraud will soon be a thing of the past.
Industry insights you won't delete.
Delivered to your inbox weekly.